Tennis Coaching, Court Hire & Support Brisbane
Take your tennis to the
next level
Matchpoint Tennis is the home of tennis in Brisbane's north with tennis centres at North Lakes and Joyner. Whether you want to become the next global #1 or just want to improve your game, our coaches are here for you.
Get
Match-Ready

with our Coaching Services
Hot Shots & Junior Coaching
Hot Shots Coaching is for kids with all skills and abilities and aged from 3-years-old up to 12-years-old. Your little tennis player will build their tennis skills to ace every play. For tennis players aged 12-years-old to 17-years-old our Junior Coaching builds technical and tactical skills to set up your child's tennis career.
Adult Coaching & Social Tennis
Train in groups or squads and refine your ball and racquet skills. Players of all skill levels are welcome to come along.
Private Lessons
It's never too late to learn a new skill or to hone a talent you already have. Our private lessons will arm you with a range of technical and tactical new skils.
School Holiday Clinics
The perfect fun and active activity for your child these school holidays. Book them in for a half or full day of tennis training and fun.
Get active, meet new people, and have a bunch of on-court fun. Our social tennis program allows you to play friendly mixed singles and doubles matches every week.
Put your training into practice. Play both singles and doubles matches in a supportive environment. Each game comes with a coach to supervise and support our newer players. 
Our juniors and adults play within the Tennis Brisbane SuperLeague and SuperGrade competitions. Each Matchpoint Tennis member is welcome to join.
Elevate your game with
Court Hire
Getting a group of mates together for your own take on a grand slam, training and honing your racquet skills, or for a friendly afternoon 1v1. No matter the reason, you can book our courts any day of the week — with each court offering different time windows.
You can hire a Matchpoint Tennis court from one of our three locations in North Lakes, Ferny Hills, and Joyner. Matchpoint club members enjoy discounted court hire rates.
Joyner Cct, North Lakes QLD 4509
342 Samsonvale Road, Joyner QLD 4500
63-79 Illuta Ave, Ferny Hills QLD 4055
Become a
Matchpoint Member
Matchpoint Members enjoy 10% off restringing, 10% off Pro Shop Merchandise, early access to Brisbane International tickets, and discounted rates for court hire. Gold and Platinum Members enjoy unlimited court hire.
Why train with
Matchpoint Tennis

?
We're
world-class

tennis racquet stringers & customisation
Customising your racquet? Our team can match your racquet's weight, balance and swing weight to the perfect specifications. Our world-class stringing team is the go-to for second-to-none tennis racquets. Each member of our team is a qualified Racquet Technician and uses the very best stringing machines – Wilson Baiardo.
The choice for
Tennis Coaching


"Great place to have a hit with the kids"
Nice courts and they do lessons too. Easy access and good value, parking is close to the courts. Great coaches with knowledge and experience, great with kids, private or group lessons.


"Excellent Tennis and coaching facilities"
My son James has won red ball 17' 18' and is enjoying his orange ball coaching. Affordable and friendly staff.


"Great place for the kids to learn how to play"
Teachers are good and the dynamics of the classes help a lot. Our 2 kids love it.


"Wonderful club and excellent coaching"
My son has regally thrived as a tennis player and as a person being a part of this club.
children coached each year
Tennis Hot Shots Coaching & School Holiday Clinics
Give your child the opportunity to play, learn, have fun, and be active these school holidays. Matchpoint Tennis' School Holiday Clinics offer children aged between five and 14 years old the opportunity to hone their tennis skills in a fun environment.
Affiliated with Tennis Queensland, our qualified, professional coaches are amongst the best in Brisbane. 
Co-Owner & Managing Director
Co-Owner & Coaching Director
Tennis coaching

across nine North Brisbane locations
Matchpoint Tennis' headquarters are based in North lakes and Joyner but we train Matchpoint members across the following locations.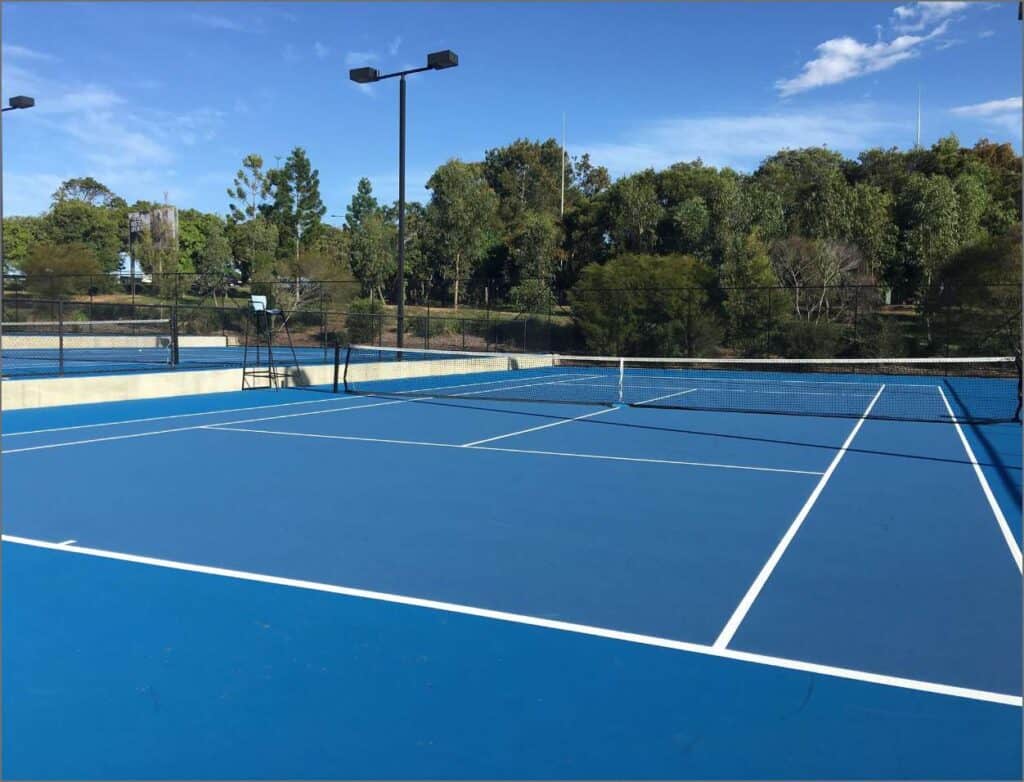 North Lakes State College, Joyner Circuit, North Lakes QLD 4509
342 Samsonvale Road, Joyner QLD 4500
Kelvin Grove State College
L'Estrange Terrace, Kelvin Grove QLD 4059
Roderick A Cruice Park, 29-33 Williams St, Dayboro QLD 4521
Narangba Valley State School
Creekside Dr, Narangba QLD 4504
69 Ferny Way, Ferny Hills QLD 4055
Matchpoint Tennis

is the world-class team to get you match-ready.
Matchpoint Tennis is the team you want to have behind you on the court. Leading the way in tennis coaching and restringing, our North Lakes and Joyner headquarters offer excellent court and training facilities.
Our team lives and breathes tennis but our passion? It's crafting up and coming tennis players by sharing our acquired skills and knowledge of the game.